Vivid 12" Phone Projector
UPGRADE ANY PHONE INTO A VIVID 12" INCH SCREEN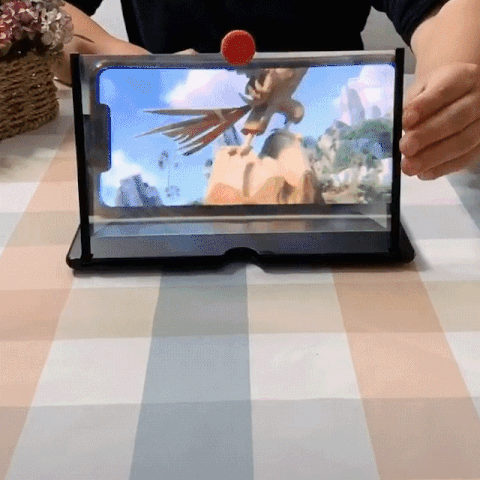 Do you enjoy chilling with Netflix but are tired of viewing it on your phone's small screen? Well here's the ultimate upgrade. Introducing the 12 inch Vivid Phone Projector. Simply cradle your phone on the rest and flip up the screen to view your favorite movie or show in all their high quality glory! No need to spend money on an expensive tablet, reap the rewards of a larger screen without splashing the cash!
Compatibility: Instantly upgrade your phone with our amazing Phone Projector, it works with all makes and models of smart phone. Just seat your phone into the projector leaving you to enjoy the home theater-like effect.
Eye Protection: Capable of magnifying any phone screen 3-4 times, perfect for watching movies and reading, and will reduce the discomfort and visual fatigue caused by long-term viewing on a small screen.

Easy To Carry: It is compact and lightweight. The screen can be slide in and out when needed. When not in use, the foldable case protects the screen.

Stay Connected - You probably spend a lot of time in front of your phone talking to family and loved ones. The Phone Projector makes this process so much easier as you don't have to be huddled around a tiny screen!
Perfect for the family - Free up your TV and have your kids watch movies on your phone without compromising on size or quality.
FREE SHIPPING - SHIPPED FROM THE USA
Keep the kids entertained with your phone either at home or while travelling without the inevitable fight over who gets to hold the phone. Travel much? If so this is the ideal gadget to accompany you on your long journeys. The screen projects any phone to a large enough display so sit back and relax and enjoy the show.
WHY CHOOSE US:
100% Customer Satisfaction guaranteed or your money back! Check out our

Refund Policy Page!
Lab Tested and certified for safety and quality and we manufacture all under one roof so we can ensure the best quality of our products
We offer a lot of variety in our products from size, color, a little bit of everything to fit anyone's taste!
Last and not least, FREE shipping on all products! Don't miss out and get yours today!
SHIPPING:
Shipping is
free
and takes 7-10 business days via USPS.